The end of the month is drawing near already! Where does the time go? This means it's time to go back and draw out the positives from the month. I love doing these posts as they allow me to focus on all the good things that has happened rather than focusing on the nasties. It really helps me realise that the month really wasn't that bad after all…
1. The start of the month saw the Foodie Blog Swap come together. A BIG thank you to everyone that has taken part, it's been so good seeing everyone receive their swaps in the last week or so. I think I will definitely have to run this again in the future. Keep an eye out for my round up posts in the next few weeks. I know some of the swaps are still coming in- I can't wait to see what you all get. Ooooh and don't forget to post up the pic of your swaps too! 🙂
2. My first ever WIAW!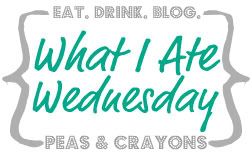 I can't believe that it has taken me so long to join in all of the WIAW fun! I love reading other bloggers WIAW's so I thought that it was about time that I did my own. There's only 2 more days to the next WIAW…excited?! is a genius for dreaming this up! 🙂
3. This month saw my first giveaway hosted by one of my blog sponsors this month, Nakd!
Congratulations to the lovely winners and to Vivoir!!! I have something pretty amazing lined up for next month, so don't miss out on that one!
4. I had a great time meeting up with fellow blogger who lives just a little way from me. We had a fab lunch at Wagamama's and just talked about blogging related stuff and life in general. It was so much fun meeting up with another blogger. None of my friends really "gets" my blog so it was nice to talk to someone that actually understood and who knows what almond butter is. Ha!
5. My first order arrived!
Yayyy! I've finally tried everything in my haul and I love it all. I've already got my next order(s) lined up for next month. I think there's an iHerb obsession going on here.
6 I've enjoyed lots of new and yummy food this month…
7. One of the biggest highlights of the month was when Alfie passed his med school finals and attending his grad ball…
…there was also a wedding that same weekend!
8. My copy of The Happy Herbivore arrived that I won in amazing giveaway! It's jam packed full of some amazing recipes that I have been drooling over already. I can't wait to find the time to try them out!
Source
9. Yesterday I ran my first ever 10 mile run. It felt amazing when I hit the 10 mile mark. I'm still really chuffed about it!
June has been an AMAZING month! I think there is a chance that July may be even better…I have some exciting things lined up! 😀
How has June been for you? What has been your highlight of the month?